Best and Cheap Guitar for Beginners
If you are a music lover and a fan of acoustic guitars in particular, then this 38-inch guitar from the house of Juarez is a must buy. Great quality and impeccable styling are just some of the features. Manufactured by a leading brand, this basic acoustic guitar is highly attractive to look at, courtesy its stylised looks and the brilliant black color.
An able acoustic guitar, its neck material is made from Linden Wood, bridge material is made from plastic, fingerboard and back material is made from Linden Wood, the string is made from nylon, and side's material is made from Linden.
The body is made from Linden Wood and it comes with 18 frets. This acoustic guitar effectively combines great looks with an innovative design to produce good quality sound. This package contains an acoustic guitar with bag, strings, pick and a strap.
Buy Cheap and affordable acoustic guitar under 2000 Indian rupees  
The goal is to provide all musicians the best experience when it comes to guitars. JUAREZ are continually evolving and inspired to create new instruments that cater to diverse musical genres. They work directly with their manufacturers to produce high-quality musical instruments for beginners and experts.
JUAREZ target is to provide musical kits, with the best value available online, without sacrificing quality. They are committed to providing only the best and highest level of service to our customers. JUAREZ are devoted to selling the best and affordable guitar online to help you make the best choice!
Specifications:
Brand: Juârez
Body Material: Linden Wood
Fretboard Material: Ebony Wood
Neck Material: Linden Wood
Number of Strings: 6
Color: Black, Sunburst, Violet
Hand Orientation: Right
String: Nylon
Size: 38 inches, Cutaway
Contents: Acoustic Guitar with Strap, Gig Bag, Strings and 2 Picks
Number of Frets: 18
Sides Material: Linden
Bridge Material: Plastic
Features: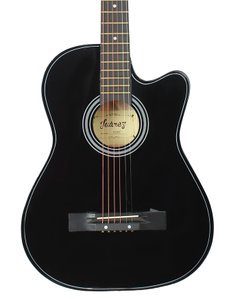 Solid Wood Topped
Features a sturdy top with smooth curves, promoting comfort during playing. This solid wood produces a smooth and rich sound ideal for rock, folk, country, and every genre in between!
Cutaway for easy holding and handling while playing the Guitar.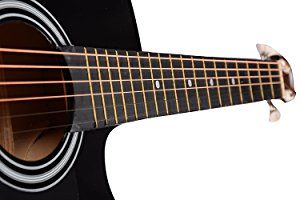 Comfortable String Height
Low action strings reduce hand fatigue and are easy on the finger, ideal for beginners and building hand strength.
Extra string is included for more playing time!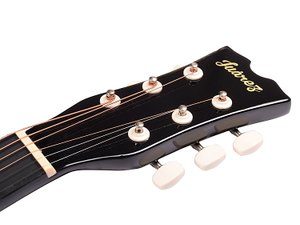 Smooth Tuning Pegs
Also called machine heads or tuners, a good set of tuning pegs are pivotal to a guitar's quality.
The pegs are smooth and easy to adjust to keep the guitar in tune.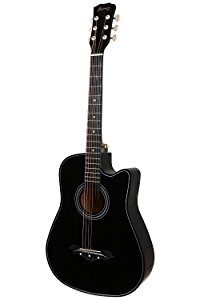 18 Frets for Easy Learning
Featuring 18 frets, the Juarez acoustic guitar is the perfect choice for beginners who seek to take their guitar playing to new heights.
Producing a highly accurate and pleasing sound, impress your friends and family by playing your favourite tunes on this guitar.